By Chuck
Posted: October 18, 2012
DeLaval has a new vision. I learned about it at World Dairy Expo from Christian Poggensee, Regional President, North America. Simply put it is, "We make sustainable food production possible." Christian says it's not a target but rather something the company wants to be perceived as. Our conversation is contained in this week's ZimmCast, a regular podcast on AgWired.com.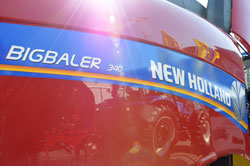 The company launched their sustainability initiative several years ago. New products development keeps four things in mind: Environment, Animal Welfare, Social Responsibility and Farm Profitability. DeLaval became a sponsor of the U.S. Dairy Sustainability Awards earlier this year.
One of the more fun products by DeLaval that accomplish this are their Swinging Cow Brushes! These were on display in the DeLaval exhibit at World Dairy Expo.

The DeLaval swinging cow brush SCB is designed to improve cow health, comfort and welfare. The swinging cow brush SCB, which starts to rotate on contact, is a revolution in cow care and cow comfort. The unique brush which rotates at an animal-friendly speed, swings freely in all directions, smoothly up, over and alongside the cow to provide comfort all around.

Learn more about what's new with DeLaval in this week's ZimmCast: The New DeLaval Vision
2012 World Dairy Expo Photo Album
World Dairy Diary coverage of the World Dairy Expo is sponsored by New Holland