Posted: April 14, 2014 at 12:05 pm
By Jamie Johansen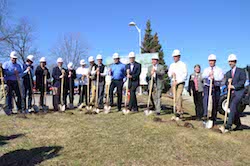 Ground was broke to mark the start of construction on the New Holland Pavilions at the Alliant Energy Center in Madison, WI. The 290,000 square foot expansion will create a state-of-the-art multi-use space, replacing again barn facilities.
"We are proud to partner with Dane County to build and provide what will be the premium livestock facility in the country, a tremendous upgrade that will benefit world class dairy, livestock, horses and other livestock throughout the year," says Ade Hughes, Vice President New Holland North America. "This opportunity is a perfect fit for New Holland, considering the smart haymaking technologies we have brought to the marketplace that benefit so many animals across North America."
The Alliant Energy Center is home to the World Dairy Expo and Midwest Horse Fair, as well as many livestock and equine shows. The new pavilions will have capacity to house more than 2,000 head of cattle and be versatile enough to include show rings for cattle and horse shows. They can be cleared to create open space accommodating for trade shows, a factor that will allow New Holland to conduct training activities. New Holland equipment will also be featured in the front reception area of the building.
Mark Clarke, Alliant Energy Center general manager, said, "The new space will enhance our ability to conduct world class activities here at the Alliant Energy Center. We're excited to have New Holland Agriculture as a significant partner in our success moving forward."
Construction on the project begins today and their goal is to have a ribbon cutting in just 30 weeks. Just in time for World Dairy Expo in early October.
Listen to or download the press conference here: New Holland Pavilions Groundbreaking Press Conference
Checkout photos from the event here: New Holland Pavilion Groundbreaking Ceremony